"And when I had that one little whiff of success that I've had in my life, with the viola Sonata, the rumour went around, I hear, that I hadn't written the stuff myself…"
Rebecca Clarke (1886 – 1979) was born in England a child of a Bavarian mother and an American father. She studied violin from an early age, and later switched to the viola to "be in the middle of the sound" of the orchestra.
In 1907 she was the first female composition student with Sir Stanford (other students of his were Holst and Vaughn Williams) at the Royal College of Music in London.
Her father was violent and used to regularly beat the children with a steel slapper. Later, in an argument, Rebecca built a house of cards using the letters of his mistresses. He then threw her out of the house refusing to pay another penny for her.
So instead of finishing her studies, she began working as a viola player.
Rebecca Clarke was one of the first female members of a professional ensemble (Queen's Hall Orchestra). She toured the world as a virtuoso, playing solo and in different ensembles, her own works often appearing under a male pseudonym on the programmes.
At the outbreak of world war II she moved to the US, living with her brothers. In 1942 she started working as a nanny and more or less stopped writing music.
She married in 1944, and although her husband encouraged her to write more, she didn't much.
Most of her works are still unpublished.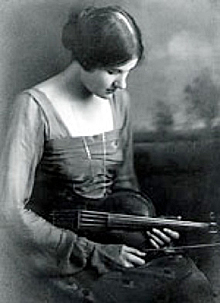 (Visited 1,660 times, 1 visits today)