Carolina Amanda Erika Maier (19 February 1853 in Karlskrona/Sweden-15 July 1894 in Amsterdam) was the first woman to receive the academic title of a "musikdirektör" (Director of Music) at the Royal School of Music in Stockholm. In 1876 she went for further studies to Leipzig. She studied violin with Cornelius Röntgen, the concert master of the Gewandhaus, and harmony and composition with Carl Reinecke among others.
In Leipzig she met Julius Röntgen, her teachers son, whom she fell in love with and married in 1855 in Landskrona/Sweden. The couple arranged musical Salons where great musicians such as Anton Rubinstein, Joseph Joachim and Johannes Brahms performed.
After the birth of her second child, Amanda Maier became ill of tuberculosis. For her convalescence she stayed with her children in Nizza and Davos. There she lived together in one house with Elisabeth and Heinrich von Herzogenberg. The two ladies played violin sonatas together, Elisabeth a former pupil of Brahms playing the piano.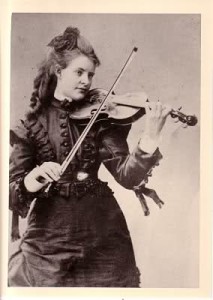 In 1891 Amanda felt much better and went back to Amsterdam and to her husband. On a last Norway trip she composed a beautiful piano quartet. Edvard Grieg wrote to his friend Julius Röntgen, that he admired her musical talents. When she died in 1894 Grieg wrote to him, that Amanda had always been one of his "Lieblinge", which means favourites.
(Visited 709 times, 1 visits today)